CORPORATE EVENTS
Trust Mireille to organize your corporate events!
For a unique experience and adapted to the taste of your group, leave the details of your corporate event to Mireille. With more than 250 events under her belt, she can create activities from the biggest extravaganzas to the most intimate. Call now to meet Mireille, Event Coordinator for the Cep d'Argent at 1-877-864-4441. Write us for a quote by choosing the object "Corporate and receptions" in the contact form below.

Activities to enjoy and have fun
A variety of personalized activities are offered for a fun and memorable day. Here are just a few examples of what can be done in the vineyard and even, in some cases, directly at your business location.
PERSONALIZED ACTIVITIES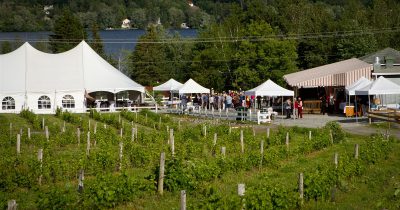 The Champagne Village
The Cep d'Argent offers a truly unique event between colleagues: the Champagne Village. Experience our main attraction during an outdoor corporative retreat and seize the occasion to also discover the universe behind the "champenoise" method.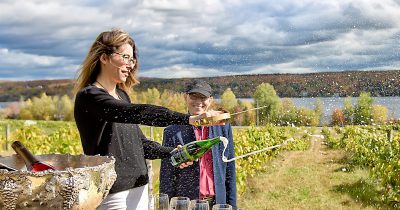 Sabering
At your own pace, enjoy the unique and enchanting environment of the Cep d'Argent beetween collegues and share one our best sparkling bottles.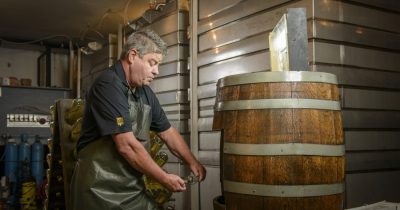 Disgorging
Discover the traditional 'Champenoise' method mastered by the Scieur brothers, 6 generations of winemakers from the Champagne region,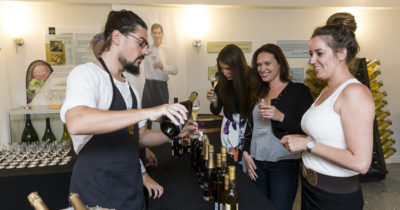 Personalized tasting
Create your own tasting "à la carte" among our 12 different award-winning wines.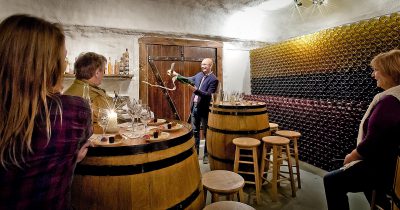 V.I.P. tour
Between lake and mountains,
let yourself be guided in the enchanting scenery of our vineyard, then discover the stages of the traditional Champagne method with the sabering of a bottle. Finish the tour with a tasting of 6 products.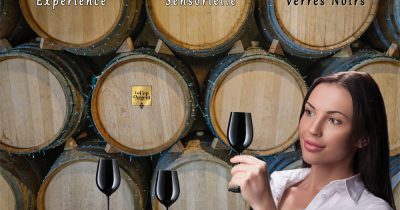 Black glasses sensory experience
Tasting wine without seeing its colour, can be confusing and amusing. This is what we propose with the experience of wine tasting in a black glass. An activity that will surely captivate all participants.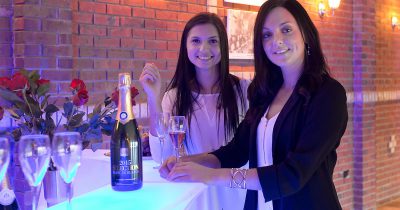 Champenois cocktail
Discover in exclusivity the final steps of the traditional champenoise method, while enjoying our white wine and our best bubbles. Complete the experience with a blind tasting.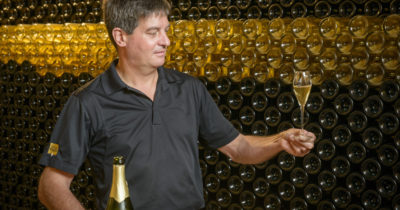 Owner tour
Discover the Scieur brothers, 6 generations of winemakers from Champagne! The owner directs you to the interpretation center of the traditional Champagne method, where he will share with you the story of the Scieur family and champagne with a blind tasting.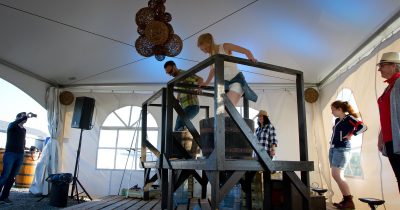 Grape stomping
Compete with your coworkers to earn the title of the best grape stomper! (September and October)
RECEPTION HALLS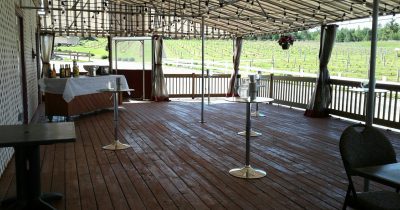 The terrace
An outdoor event close to nature out of the weather.
100 guests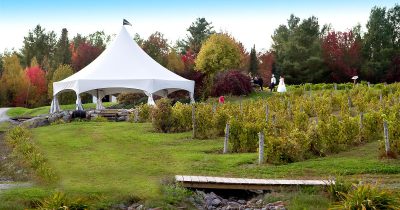 Exterior Deck
Dominanting the small Lake Magog, in the middle of vineyards and at the foot of Mont-Orford.
250 guests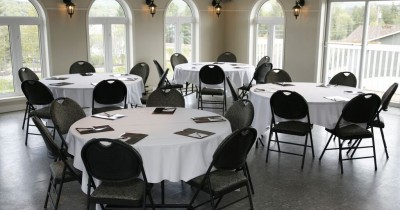 The corporate
Perfect room for meetings, air-conditioned.
120 guests
The Bistro type
Ideal for a 5 to 7 between colleagues.
200 guests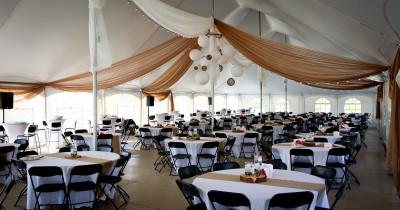 The grand marquee
In the heart of the vineyards, the grand marquee gives free rein to the imagination.
300 guests