CORPORATE EVENTS
The Cep d'Argent offers a truly unique event between colleagues: the Champagne Village. Experience our main attraction during an outdoor corporative retreat and seize the occasion to also discover the universe behind the champagnization method.
Our reception halls and installations have been built specially to receive big groups. Our Events and activities team is characterized by a personalized-planning attitude and a devoted professionalism.
At your disposal:
Catering service with on-site kitchen, animation and music, reception halls and marquees, outdoor terraces, panoramic views, parking and shuttles. Your imagination is our only limit!
Activities to savor and enjoy
Wine brings out its gathering qualities even more when it is matched with our vineyards numerous activities. Inside, guests learn the proper steps of the champagne traditional method. A guided tour is offered through our interpretation center, our production area and culminates in an impressive sabering demonstration. Outside, the most athletically oriented can compete in barrel racing or grape crushing.
Nature lover will be ecstatic to see our panoramic belvederes offering magnificent views on Orford Mountain and Lake Magog. Parked somewhere between the vines, the Wine Truck will serve out a selection of the Cep d'Argent most refined wines.
VEGAS Tasting
Learn the basics of wine with this fun game hosted by one of Vins au féminin's sommeliers: Marie-Michèle Grenier, Coritha Pierre or the renowned Jessica Harnois. Always entertaining, VEGAS Tasting animations will bring a touch of competition in your company. Come and blind taste wines from all across the world.
Black glasses sensory experience
Tasting wine without seeing its colour, can be confusing in the funny way. This is what we propose with the experience of wine tasting in a black glass. An activity that will surely captivate all participants.
Music to the ears
Our region is full of talented musicians. Choose from a selection of country, top 40, jazz or rock bands to liven up the vineyard and your guests. If you would prefer to transform our vineyard into an urban club with a DJ and a light show? That's also possible!

WEDDINGS
Is there anything more festive than a glass of sparkling wine? Hundreds of glasses of sparkling wine! Plan the big day in the Eastern Townships Champagne Universe!
At your disposal:
Catering service with on-site kitchen, animation and music, reception halls and marquees, outdoor terraces, panoramic views, parking and good wine!
An unequaled event coordinator
Release unnecessary stress by leaving the details of your wedding to Mireille, our own event coordinator with more than 200 weddings under the belt. From the biggest extravaganzas to the most intimate ceremony, Mireille knows how to make your special day unforgettable.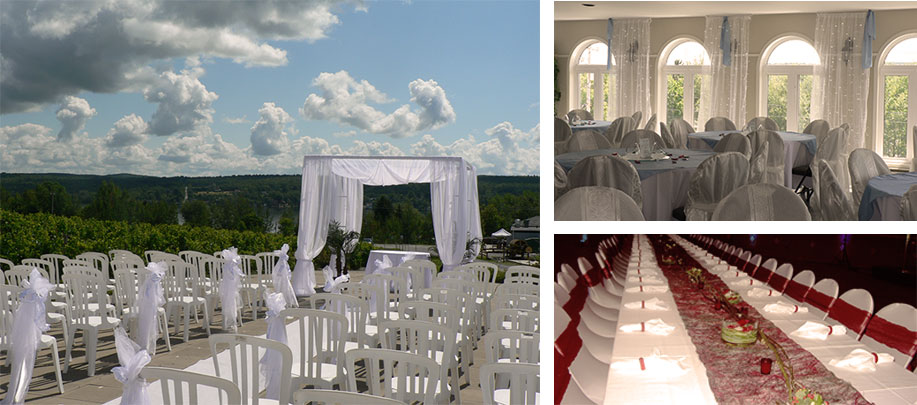 But what makes the Cep d'Argent stand out in the crowd? Our personal approach! "Questions are always answered in a short delay and I am with the bride and the groom from the booking day to the wedding day. The lasting impression is that Mireille can solve everything. And this unparalleled confidence is the best customer service there can be."
RECEPTION HALLS
The terrasse › 100 guests
Read more
For an event close to nature, but protected from the elements
Exterior Deck › 250 guests
Read more
With a panoramic view of Little Lake Magog, right in the middle of the vines.
Le chevalier (Knight's hall) › 120 guests
Read more
Breathtaking views over Little Lake Magog and the vineyard. Second floor
La médiévale (Medieval hall) › 200 guests
Read more
A unique out of the ordinary ambiance and style.
The corporate › 120 guests
Read more
The grand marquee › 900 standing - 300 seated
Read more
Stacked between the vines, the grand marquee can fulfill your craziest fantasies.